Hey Slurpy Community!
As foreshadowed in the last edition of Slurp, today I'm going to be taking a walk through the hall of crazy women (up there with my favorite genre of woman, right next to scorned and often overlapping on the Venn diagram). Specifically, the inimitable Rose Porteous, an Australian national treasure who must be protected at all costs.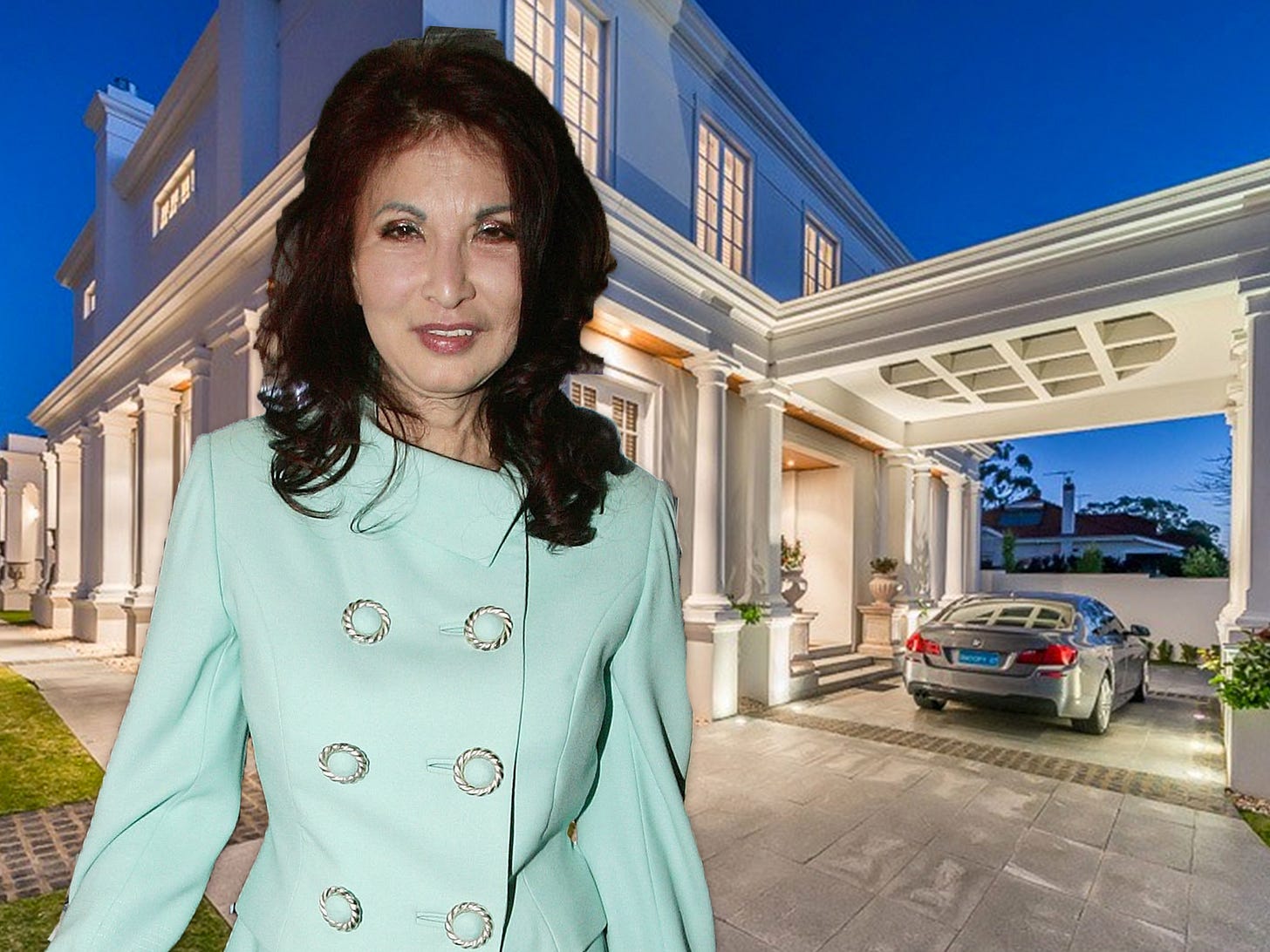 I have been consuming a lot of "crazy women" content lately, beginning with The C-Word, a podcast by art person and writer Alissa Bennett and embattled star Lena Dunham that gives women who society has deemed "mad, bad, or just plain sad" a thoughtful and nuanced 2020 rewrite. Their subjects include Jocelyn Wildenstein, the woman who allegedly got plastic surgery to look like one of her beloved rare cats, Tania Head, the "9-11 faker", and Robin Givens, who plays the Mayor on Riverdale and also had a turbulent past life while regrettably married to Mike Tyson in the 80s. I know many of you are recoiling at the mere mention of Lena Dunham, but listening to the podcast I was reminded of how funny she actually is, despite her propensity to say a lot of cringey and probably at points legitimately offensive things. In my opinion, it's better for famous people to be outrageous and larger than life than boring beacons of morality (with the large caveat of a Woody Allen style predator situation). I saw that meme that was going around recently that was like "Lena Dunham got the show Girls after pitching a single page proposal at 22. THAT'S WHITE PRIVILEGE" or something to that effect, and was kind of like okay? The show was good and revolutionary for mainstream television at the time? A lot of people in Hollywood are white and privileged and way more boring than her yet no one is being mean to Hailey Baldwin Bieber or Kaia Gerber, but I guess they're nubile and inoffensive? I don't know, I guess I'm just a Lena apologist, but undeniably her propensity to incite ire makes her uniquely well positioned to dissect other women who we as a society have tried to dispose of over the years.
I went further down the rabbit hole and ordered all of Alissa Bennet's zines – available amongst others here – which contain odes to mainly tragic figures who have lived fast and unorthodox lives, often marred by criminal activity or an untimely end. I'm not overly interested in true crime as a genre unless it provides a level of meta-commentary on why society is so obsessed with gore, or is doing that weird American thing where journalists and TV producers are better investigators than the police and try to solve an ancient unsolved murder or get a wrongfully accused person out of prison. What I'm saying is that true crime is such a textbook "weird but normie" interest these days and I'm unmoved by the Netflix factory of documentaries about psychotic men who murdered their whole family that provide a lot of gratuitousness but no insight. Bennett's zines manage to hit an empathetic, nonjudgmental but inevitably salacious tone driven by her desire to see herself reflected in these outlandish or deranged subjects. She also seems to hold a deep disdain for Australia, which she describes in one instance as "horrible Australia" and elsewhere, in equally hilarious terms:
"Look, everyone knows that Australia sucks. It's far away and boring and full of humongous snakes who have learned to open doors on their own, and it seems like everyone who lives there can't wait to get the fuck out so that they can move to New York and tell the rest of us how much better the banking system is in their homeland. Maybe at one point Australians liked to surf and drink beer at the beach, but in 2019 there are really only two things they are internationally famous for, and those things are doling out health and beauty advice (everyone already fucking knows that avocadoes are good for you, enough) and comitting low-key but unforgivably ghastly crimes."
All this delving through the pop culture trash heap prompted a deep dive into the life and times of Rose Porteous, a Filipino-Australian socialite and chaos merchant who is definitely NOT a mass murderer but, spoiler alert, does like to dole out beauty advice. So, let's jump right in!
Rose was born Rosario Magdalena Teresita Lacson in 1948 in Bacolod, Negros Occidental, in the Phillipines. Her family includes politicians and military men and Rose claims to have grown up in "very favorable conditions", never wanting for anything. She seems to have spent the first 30-odd years of her life hopping from country to country, modelling, working as an air hostess, marrying and divorcing (twice), having a kid, and wheeling and dealing in the family food and beverage business.
In 1983 she arrived on Australian shores for a friend's wedding, allegedly here for a good time not a long time, and somehow ended up accepting a job as a maid for septuagenarian iron ore magnate Lang Hangcock, who basically owned half of Australia's natural resources at that point. It's a little perplexing that Rose would apply for this job on a lark if she was so rich and successful, but she seems like an "I'll try anything twice" kind of girl. She later flat out denied ever being Lang's maid, so the jury's out on that one.
One thing led to another and the pair "fell in love" and were married a couple of years later. Lang's daughter, the equally infamous Gina Rinehart, was PISSED OFF and boycotted the wedding, but Rose and Lang were too busy building a mega-mansion based on the Tara estate in Gone With the Wind to care. The press were shook by the 40 year age difference, Rose's overt sexuality, and the fact that an Asian woman got to live large on that outback iron ore dime. With her outrageous fashion sense and propensity for witty one liners, Rose was MADE FOR THE PRESS! This 60 Minutes interview, in which Rose insists that Lang is a "very, very sensual man" who "likes to tell dirty jokes" while he sits there appraising her $40,000 outfits while looking like a shriveled raisin is a must watch! At one point, she pulls her knickers out of her front pocket.
The lovely couple stuck it out for an honorable nine years until Lang's death in 1992. Never one to mope in sadness, three months later Rose married one of Lang's good friends, real estate tycoon Willie Porteous. A further outraged Gina lawyered up, and a decade long legal battle between the two women over Lang's $400 million dollar estate ensued. Gina accused Rose of "nagging Lang to death", philandering, switching her father's medicines around and trying to push him out of his wheelchair. An eventual inquest in 1999 saw more wild accusations that Rose hastened Lang's death by forcing oily foods on him, sacrificed live animals in their home, and used voodoo to ensnare her new beau. The inquest was put on hold after it came out that Gina had paid many of the 60 witnesses to testify against her stepmother, and eventually came to the anticlimactic finding that Lang died entirely of natural causes.
In the 20 or so years since she cleared her name, Rose has been busy. In 2002, she starred in a short lived reality TV show called simply Rose, of which I tragically could only locate this very short clip of her yelling at a member of her house staff. Since then, Rose battled a pill addiction, bequeathed a tidy mill to each of her beloved poodles, divorced and remarried Willie, became a beautician, and even found time to write an op-ed about why she refused to watch House of Hancock, a dramatized show about her and Lang's romance that aired back in 2015. She was last spotted on A Current Affair in 2016, in an interview that she teased as her last ever before jetting of to become a flamenco dancer in Spain, telling the world to: "Bury me upside down, so you can kiss my sweet little ass!"
Rose Porteous, you're truly too good for Australia and we never deserved you! If anyone has a spare $500 you can buy the below photo of her arguing with paparazzi outside court here!