Hi Slurps,
I've been struggling to deliver the piping hot takes on This Is Paris that you all deeply deserve. I was promised the "untold, unfiltered" story of Paris Hilton and quite frankly, I feel let down by the documentary. Since watching it, I've been recovering from the cruel and unusual disappointment of having my hopes built up through exceptionally well edited trailers and then teared down in its actual viewing.
This Is Paris starts off promisingly, with Paris rifling through nostalgic mood boards featuring her parents kicking it with Nancy Reagan ("my family has always been very conservative"), childhood Paris dressed to the nines in JonBenét Ramsey-esque get up, and elsewhere, cozying up to her beloved pet monkey. We learn that as a child Paris "saved up her pocket money" to collect exotic animals and always wanted to be a vet when she grew up. Yet, the universe had other, slurpier plans! After her family moved to New York City when Paris was a teen, things started to get buck wild real quick. Honestly, Paris was legitimately cool and rebellious as a teenager, skating in and out of nightclubs in sneakers that turn into roller skates, demurring "bye gorgeous, see you later!" to middle-aged paparazzi, and then, of course, resplendent with middle finger up in the iconic early David LaChapelle photoshoot at her grandparents' house. Paris' mom Kathy recalls her horror at Paris wearing a necklace emblazoned with "hot bitch" when she should have been sporting pearls and dreaming of her debutante ball.
The tension between party girl teen Paris and her parents grew, until they had her literally ripped out of bed in the middle of the night and shipped off to a series of rural "emotional growth" schools for troubled teens. With apparent super human strength and speed, she escaped from more than one of these institutions, running through cornfields in the middle of the night and once clearing an entire flight of stairs, somehow intact. Eventually, Paris found herself at the Provo Canyon School in Utah, where she sustained the never before revealed trauma that is at the heart of This Is Paris. At Provo, Paris recalls that the teachers "got off on seeing kids naked and in pain" and medicated students against their will. She was physically abused and locked in solitary confinement naked for 20 hours. As if reflecting on a prison sentence, Paris shares that "the only thing that saved my sanity was thinking about what I wanted to do and who I wanted to become when I got out of there."
The allegations are horrific and it is clear that Paris remains haunted by her experience. Having largely erased the abuse from her narrative – allegedly never even sharing it with her parents, until now – Paris suffers from nightmares, and believes that this early trauma set the precedent for a series of physically abusive relationships throughout her life, as well as her clearly emotionally abusive dynamic with Rick Salomon, who went on to betray her by leaking the infamous sex tape. While it seems plausible that Paris' experiences at Provo propelled her further into a spiral of self destruction, or at least, dissociation, the way that This Is Paris attempts to frame this event as the primary and singular source of her emotional disturbance feels overly simplistic and two-dimensional. Paris claims to have relinquished all decision making power to director Alexandra Dean, yet there is a general unwillingness in the film to push past Paris' paltry self-analysis.
While it may be a bit of a stretch to claim being born a Hilton as a primary trauma, darkness simmers under the surface of the family. Paris' antics were clearly a source of shame to her buttoned-up parents, who her sister Nicky offhandedly refers to as "the king and queen of sweeping everything under the rug". Quietly judgmental, married to a Rothschild, and looking like she came out of the womb in ballet flats and a crisp white shirt, Nicky has become the perfect WASP daughter to Paris' chaotic Peter Pan energy. Such dynamics pass by largely unprodded.
While the leak of the sex tape does feature in the film, a thorough analysis of the media's willingness to hypersexualize and rabidly ridicule Paris for an exploitative sexual experience that took place when she was still a teenager is missing. Paris was the victim of revenge porn before society had the language or insight to know what that meant, and its impact is under-examined. We do, however, learn that Paris finds it hard to trust men and tends to date her inferiors, including an influencer named Aleks Novakovic whose appearance in the doco ends with him being dramatically expelled from the VIP area of Tomorrowland music festival, where Paris is DJing. "One of the meanest things you could do to someone is taking away their artist band," reflects Paris somberly. To her credit, Paris is nonplussed about being unmarried, childless and nudging 40. Where domestic bliss eludes her, Paris' main goal in life is to make a billion dollars as she builds her "fempire".
Towards the end of the documentary, Paris assembles a group of her former classmates to reunite and film videos for #BreakingCodeSilence, a campaign that aims to raise awareness about abuse in youth correctional programs like the Provo Canyon School. While the cause is no doubt important, using a documentary that claims to show "the real Paris Hilton" as its launch pad doesn't quite land. Further, it's easy to be skeptical about the attempt to frame Paris not just as a survivor who has decided to speak out, but as an advocate, activist and "voice for the voiceless" (her words). Up until now, Paris has been apolitical at best, once claiming that the women who accused Trump of assault were just looking for attention and proudly organizing her life around amassing wealth. This, of course, does not mean that she does not have the right to speak out, just that the borrowing of language familiar from the social justice warrior space is questionable given the campaign makes no attempt at intersectionality or linking Paris' experiences to those of young people who are abused outside of elite institutions.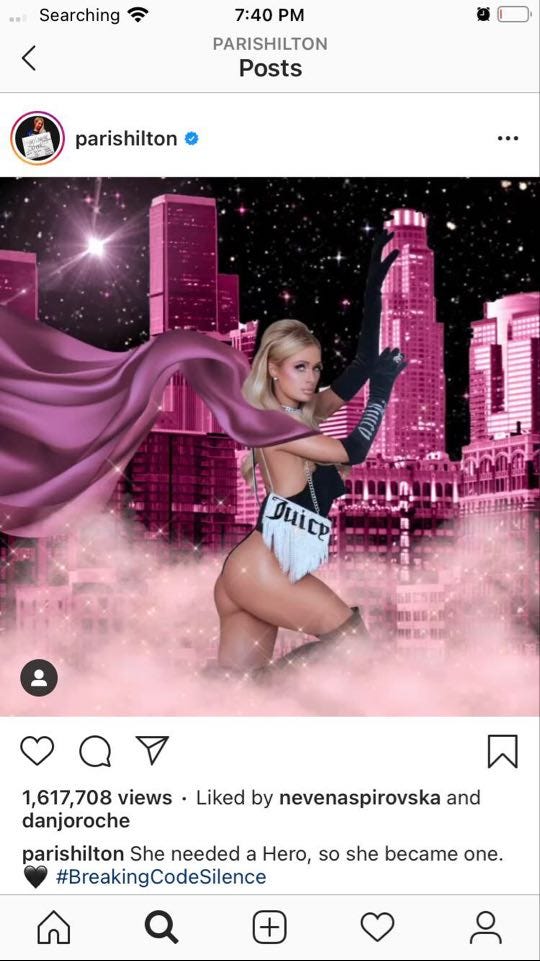 It's hard to critique This Is Paris' emphasis on her time at Provo and recent turn to advocacy without sounding like I think she should stay in her lane, which isn't the case. However, the film's attempt to fit the complex, tumultuous and certainly traumatic life of an icon into a tidy victim-to-activist redemption story feels like a missed opportunity. Perhaps, instead of focusing on "humanizing" Paris by showcasing her suffering, Dean could have forced us to ask ourselves why we as a society were so quick to strip her of that humanity in the first place.